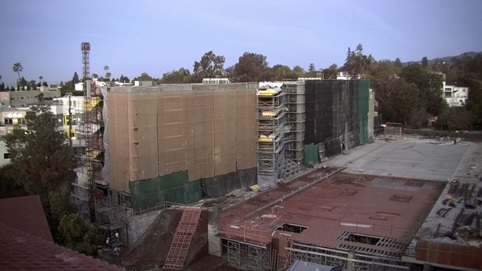 In June 2017, Brentwood School began construction of the first phase of its 30 Year Master Plan – New Middle School Building on the East Campus.  Sunset commuters cannot miss the massive structure going up at the corner of Sunset Blvd and Barrington Place.  The building is expected to be completed by September 2019.
In preparation for the project, Brentwood School held 130 Meetings over the span of 11 years  with various community groups, which resulted in signing a Covenant with the Brentwood Homeowners Associations  and the Residential Neighbors of Brentwood School.
In February 2017, the City approved Brentwood School's 30 Year Master Plan.  Following the approval, Sunset Coalition signed a Separate Agreement with Brentwood School to achieve a more rigorous peak hour trip reduction.  Currently, Brentwood School is on target for meeting the goals outlined in our agreement.
After completion of the current phase of construction on the East Campus, Brentwood School will begin construction of Phase 1 on the West Campus, located at the Northwest corner of Sunset and Saltair.